The Restaurant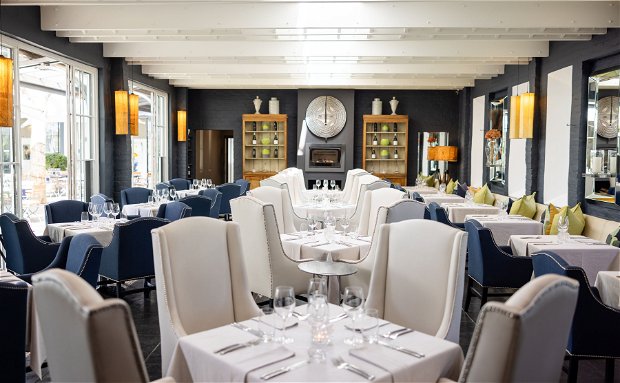 Grande Provence Estate is a place where the past and the present seamlessly converge, creating a harmonious blend of history and modernity.
The 18th-century Manor House and The Owner's Cottage stand as proud reminders of their Huguenot heritage, each exuding the timeless charm and elegance of a bygone era. These architectural treasures provide a glimpse into the history of the estate, where the legacy of the Huguenots lives on.
In contrast, The Restaurant and the wine tasting area at Grande Provence project a chic and contemporary industrial presence. These spaces are a testament to the estate's ability to evolve with the times while retaining its commitment to excellence. Here, you'll find a modern ambiance that perfectly complements the heritage of the estate.
This seamless fusion of the old and the new creates a unique and captivating atmosphere at Grande Provence, where history and innovation coexist, inviting guests to explore, indulge, and appreciate the rich tapestry of experiences that the estate has to offer. It's a place where tradition and progress come together to create something truly extraordinary.
Under the skillful guidance of Chef Anvor Fortuin and his talented team, a new culinary chapter unfolds at Grande Provence, one that marries sophistication with simplicity and re-imagines local South African heritage cuisine. In doing so, they bring the estate back to its culinary roots, celebrating the flavors and traditions deeply rooted in the region.
This sophisticated yet unpretentious menu is a testament to the team's commitment to culinary excellence. With every dish, they offer a fresh perspective on the rich tapestry of South African flavors, infusing modernity and creativity into time-honored recipes.
Chef Anvor Fortuin's culinary artistry reflects an understanding and appreciation of the estate's heritage, where the past and present harmonize on each plate. It's a journey of taste and tradition, an invitation to savor the essence of South African cuisine in a way that is both familiar and refreshingly innovative.
Grande Provence's commitment to culinary excellence and the celebration of its heritage through food is a testament to its dedication to providing an unforgettable dining experience, where every bite is a celebration of South Africa's rich culinary heritage.
 
Restaurant Operating Hours 
Monday - Sunday 
Lunch : From 12h00 - 14h30
Dinner: From 18h00 - 20h30.
Please note: A non-refundable R300 pp cover charge is applicable to ALL confirm bookings.
Groups of 8 guests or more will be presented with a 3 or 4 course set menu. Pre-selection must be done prior to group arrival date. Full pre-payment will be required to confirm group bookings. Costs excludes drinks and 12% gratuity and coordination fee.
For Restaurant Bookings, please email reservations@grandeprovence.co.za OR call +27 617053494
For groups or Functions, please email events@grandeprovence.co.za 
View Our Summer Set Dinner Menu
Meet the Head Chef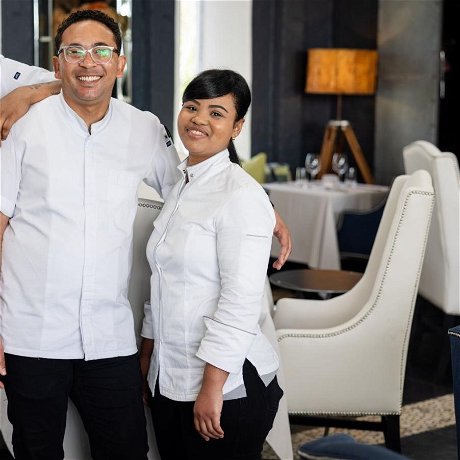 Meet Head Chef Anvor Fortuin & Sous Chef Danielle Salies
Chef Anvor Fortuin is nothing short of a culinary mastermind. He possesses the remarkable ability to elevate his dishes to a whole new level, turning each culinary experience into a symphony of flavors. With an unwavering commitment to detail in his plating, one could easily mistake him for an artist composing a masterpiece with every dish. Every bite he creates is a testament to his skill and imagination, delivering an explosion of flavors that tantalize the senses.
In the restaurant, his dishes are imbued with a profound sense of love and passion, manifesting in every course you have the pleasure of savoring. It's as though he pours his heart into every creation, ensuring that each bite is not just a taste but an emotional journey.
As a talented and youthful chef, Chef Anvor Fortuin's culinary expertise knows no bounds. He not only broadens his own knowledge but also commands a formidable team in the kitchen. His leadership extends beyond the stove as he imparts not only his culinary wisdom but also cultivates the skills and ignites the passion of his team members in the art of the kitchen. Chef Anvor Fortuin is not just a chef; he is a mentor, an innovator, and a guardian of culinary excellence.
When Chef Anvor steps away from the bustling kitchen, the reins are confidently handed over to his right-hand chef, Danielle Salies. With a dynamite personality and culinary prowess, she effortlessly takes charge, treating each dish as if it were her very own masterpiece. Her passion for the culinary arts shines through, and she infuses her creations with a touch of artistry that's all her own.
Beyond her culinary talents, Chef Danielle has a deep love for music, which she seamlessly weaves into her dishes. Like a skilled composer, she orchestrates flavors that dance on your taste buds in perfect harmony, creating a symphony of taste that's as delightful as a melody hitting all the right notes. Under her guidance, dining becomes not just a meal but a memorable and harmonious culinary experience.