Bistro at Grande Provence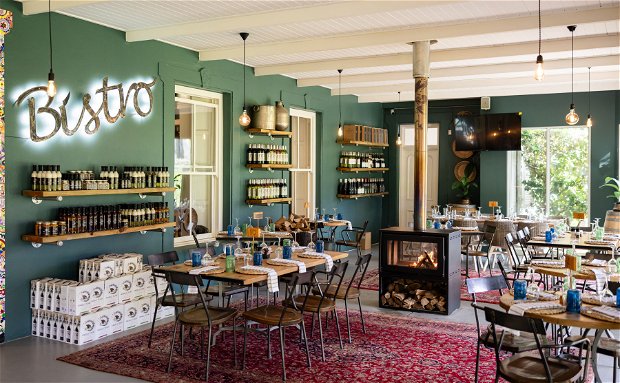 The Bistro is a casual, yet contemporary eatery and the perfect destination for anyone in pursuit of a top-tier Cape wine farm experience but with meals taken in a more relaxed, family-friendly atmosphere.
Having said that, it doesn't compromise luxury for accessibility, and we found the service exceptional, the tables beautifully decked, and the décor striking the perfect balance between casual and sophisticated.
Our Head Chef Marvin Robyn designed an easy style simplistic menu that caters for all.
The inside the Bistro feels like an extension of the wine estate, beaming with natural light and open space. True to its nature, the ambiance of the Bistro is relaxed and tranquil. The vineyards and garden surround the Bistro, making it ideal for parents with young kids. Children can play ion the Jungle Gym in a safe area whilst the adults eat and drink merrily.

The Bistro at Grande Provence Franschhoek is just next door to the garden sculpture, gallery, and outdoor wine tasting area. Children are welcome to play along the open grass area.

With laid back, unpretentious decor, the food is exactly that. Farm fresh produce and Bistro-style dishes are just what your taste buds are dying for. If you are after wholesome, freshly made gourmet fare, then you will be pleasantly surprised.
Seasonal Opening times: 
Monday - Sunday:
Breakfast: Mon - Sun: 09h00 - 10h30 (last Seating) - Kitchen closes at 11h00
Light Lunches from: 12h00 - 17h30 (last Seating) - Bistro closes at 18h00 
We welcome walk-ins without bookings, subject to availability. Should you plan a day out with friends & family, bookings are required for groups of 8 and more for breakfast or lunch. Group Bookings of 12 and more pax require Full payment prior to the groups arrival date. 
Please note: A non-refundable R100 pp cover charge is applicable to confirm bookings. The cover charge is also applicable for Sunday lunch bookings, due to high demand.
WE REGRET THIS IS A CASHLESS ESTATE. NO CASH SALES OR CASH TIPS WILL BE ACCEPTED.
To book, contact reservations@grandeprovence.co.za OR call +27 21 876 8600. 
Group Bookings/Functions : events@grandeprovence.co.za
View Our Summer Bistro Breakfast Menu 
View Our Summer Bistro Hot/Cold Beverage List
View Our Summer Bistro Light Lunch Menu
View Our Summer Bistro Wine List
Meet the Head Chef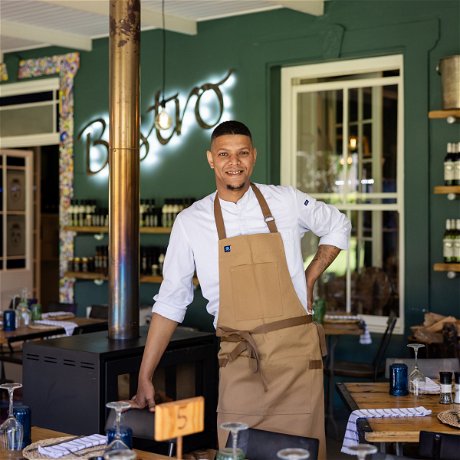 Head Chef Marvin Robyn
Chef Marvin Robyn, with his passion in the culinary world brings Grande Provence a whole new look into Bistro style dishes. Creating each dish with a unique balance of flavours and textures.
From presentation to your Taste Buds, one would without a doubt taste the Summer crisp in each dish. 
Before joining the Grande Provence team towards the end of 2018, he gained valuable experience working with leading chefs in a number of top Winelands restaurants including Delaire Graff, Cuvée at Simonsig, Equus at Cavalli  Makaron at Majeka House. 
Marvin who worked with Chef Lucas Carstens for six years, first at Cuvée and later as sous chef at Makaron, still considers him his mentor today. On the international front, he cites London Michelin chef Marco Pierre White as a source of culinary inspiration.
As an avid fisherman, Marvin loves working with fresh seafood above all else. In his free time when he's not cooking up a storm in the Grande Provence kitchen, you'll find him surf fishing off the beach or fishing from the rocks. He also loves catching up with his chef friends, sharing ideas and exploring new horizons.