History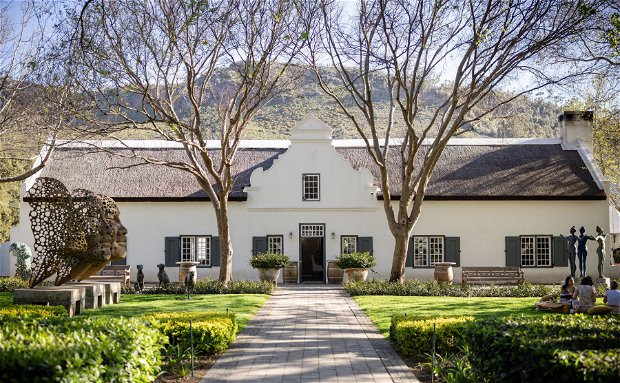 The storied history of this esteemed estate weaves a tale of emancipation and prosperity, where freedom was discovered and fortunes were forged. It is a narrative rich with valor and savoir-faire, where enterprising ventures bloomed like the vines on these grounds. This past is not just history; it is the very soul of Grande Provence, a legacy as spirited and enduring as the estate itself.
Grande Provence Wine Estate proudly carries the weight of her 325-year history with grace and dignity. Nestled within the picturesque embrace of the Franschhoek Valley in South Africa's Western Cape, her verdant vines sprawl across 47 acres of fertile soil. The rolling landscapes frame the valley's floor, adding a touch of drama to the rugged mountains that stand sentinel in the distance. Merely an hour's drive from the vibrant pulse of Cape Town, this is the quintessential heartland of South African Wine Country, where nature's beauty and viticultural artistry converge in perfect harmony.
Over three centuries ago, the seeds of this legacy were sown when Pierre Joubert, a French Protestant escaping religious persecution, embarked on a daring journey. In 1694, he and fellow Huguenots found refuge in Olifantshoek, later christened Franschhoek. Pierre, alongside his new wife, Isabeau Richarde, embarked on a journey of prosperity, acquiring local farms like Belingchamp, L'Ormarins, La Motte, and La Roche, ultimately leaving behind a legacy of sprawling vineyards and iconic Cape Dutch architecture.
In 1732, at the age of 67, Pierre passed away, leaving behind a heritage that would endure for generations. One of the notable custodians of this estate was Count Riccardo Agusta, whose name graces two of the estate's wines. A passionate advocate for nature conservation and a shrewd entrepreneur, Count Riccardo Agusta added Grande Provence to his family's eclectic portfolio in 1991.
Then, in April 2004, a consortium of Dutch and Belgian visionaries took the reins as new owners of Grande Provence Estate. Fueled by their ardor for exceptional cuisine, superb wine, unparalleled hospitality, and their affection for Africa, they embarked on a new chapter in this storied tale.
In the embrace of Franschhoek, often dubbed the "Food and Wine Capital of the Cape," you'll find a slice of French elegance seamlessly blended with African charm. The region's wine estates, diverse culinary delights, and historical museums documenting the Huguenot exodus all await, inviting you to immerse yourself in the rich tapestry of this corner of the Cape.
The story of the Huguenots, who fled relentless persecution by the Catholic church, is woven into the very fabric of this land. In 1681, on the last day of December, a substantial contingent of Huguenots set sail for the Cape of Good Hope. These French Protestants, adherents of the Reformed Church, found refuge in the Drakenstein valley, naming it Franschhoek.
Their exodus brought a boon to the growing colony, as these emigrants included skilled tradesmen and seasoned vintners. The Dutch East India Company provided tools, seeds, and support to those who aspired to cultivate the land, envisioning a fruitful trade return.
Today, the legacy of these brave pioneers lives on in the surnames we recognize throughout South Africa - names like de Klerk (Le Clercq), de Villiers, Visagie (Visage), du Plessis, du Toit, Fourie, Fouche, Giliomee (Guilliaume), Hugo, Joubert, Labuschagne (la Buscagne), le Roux, Malan, Malherbe, Marais, Theron, Jordaan (Jurdan), and Viljoen (Villon), Blignaut, and TerBlanche. These names tell a tale of resilience, determination, and the enduring spirit of the Huguenot heritage in South Africa.