History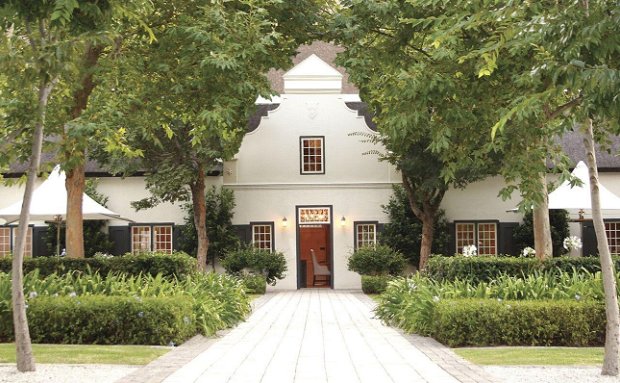 The history of this noble estate tells of freedom found and fortunes made, of valour, savoir-faire and fruitful ventures. It is a past that is as spirited as Grande Provence herself.
Grande Provence Wine Estate wears her 325-year history with dignity. Nestled in the beautiful Franschhoek Valley in South Africa's Western Cape, her lush vines spread across 47 acres. Rolling vistas frame the valley floor and heighten the drama of the rugged mountains beyond. Barely a one-hour drive from Cape Town, this is heartland South African Wine Country at its very finest.
Over 325 years ago, French Protestant Pierre Joubert hid his bible in a loaf of bread and fled his home town of La Motte-d'Aigues in Provence to avoid religious persecution. In 1694, along with other Huguenots, he arrived in Olifantshoek (Elephants Corner; later to be renamed Franschhoek).
Having married another passenger while aboard the Bergchina, (after his first wife died tragically on the same voyage) Pierre and his new wife, Isabeau Richarde, soon prospered on their farm, acquiring other local farms including Belingchamp, L'Ormarins, La Motte, and La Roche.
In 1732, at age 67, Pierre died, leaving a legacy for generations to come of acres of vineyards and outstanding examples of Cape Dutch architecture, of which the most notable is the Manor House at Grande Provence Heritage Wine Estate.
The next notable owner was Count Riccardo Agusta, after which two of the Estate's wines were named. A keen nature conservationist and successful entrepreneur, Count Riccardo Agusta acquired Grande Provence in 1991, adding it to the family's many and varied holdings.
It was in April 2004 that the new owners, a consortium of Dutch and Belgian business people, purchased Grande Provence Estate, indulging their passion for fine food, superb wine, extraordinary hospitality and their love of Africa. 
Lose yourself in this French corner of the Cape. Franschhoek has a unique feel of little Europe and is known as the Food and Wine Capital of the Cape. Enjoy the wine estates, many restaurants and other local mouthwatering delights that tantalize taste buds. Feel the history amongst the museums that document the French Huguenot exodus to Africa.
After many years of ruthless persecution as heretics by the Catholic church, a large contingent of Huguenots fled France and sailed for The Cape of Good Hope on the 31st December 1681. The Huguenots were French Protestants who were members of the Reformed Church which was established in 1550 by John Calvin. François Villion and the brothers François and Guillaume du Toit had, however, already settled in the Drakenstein valley in an area they named Franschhoek.
This large scale emigration was a boon to the growing colony as many of the French emigrants were tradesmen and experienced wine farmers. The Dutch East India Company loaned tools, seed and other assistance to those who wished to farm, with view to there being a trade return.
Many of the now well known South African surnames bear witness to this heritage – de Klerk (Le Clercq), de Villiers,Visagie (Visage), du Plessis, du Toit, Fourie, Fouche, Giliomee (Guilliaume), Hugo, Joubert, and Labuschagne (la Buscagne), le Roux, Malan, Malherbe, Marais, Theron, Jordaan (Jurdan) and Viljoen (Villon), Blignaut, TerBlanche.