Summer Classics Concert Entitled "African Inspired Sopranos"
Posted on Fri September 27, 2019 in
Events
.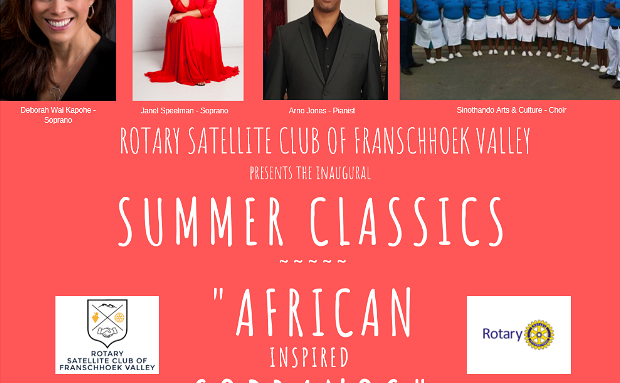 The Rotary Satellite Club of Franschhoek Valley presents their inaugural SUMMER CLASSICS concert entitled "African Inspired Sopranos".
Featuring New Zealand soprano, Deborah Wai Kapohe, and South Africans, soprano Janel Speelman and pianist Arno Jones, this merger of classical opera with African vibes is not to be missed.
We are additionally pleased to introduce the Sinothando Arts and Culture Choir from Langrug in Franschhoek to support these three professional artists. Hosted in our wine cellar, tickets will be very limited so book early to avoid disappointment. Priced at R250, tickets are inclusive of a glass of Grande Provence wine on arrival, and another during the short interval.
Those wanting to make a day out of it in Franschhoek are welcome to reserve a table at one of the two restaurants at Grande Provence for lunch after the concert by calling 021 876 8600. The artists are availing themselves for free / at a deep discount as this is a charity event. All proceeds will go towards the various upliftment projects that the Rotary Satellite Club of Franschhoek Valley is involved with in the disadvantaged community of the Franschhoek Valley and surrounds.
Diary listing information:
When: Sunday 24th November 2019
Time: 11h00 to 12h00
Where: Grande Provence Heritage Estate 1694 in the Franschhoek Valley
Cost: R250 per ticket