A Day With The Grande Dame
Posted on Fri June 14, 2019.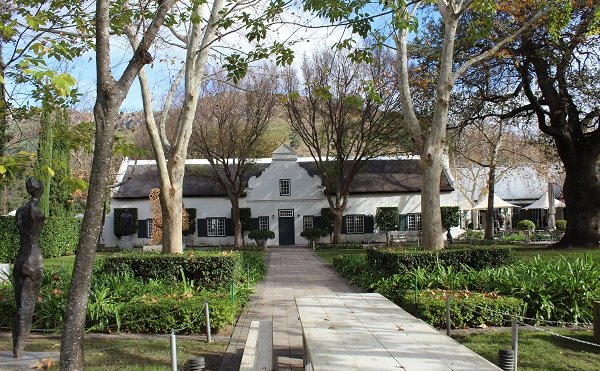 Whether you are spending a day, a holiday, or just a stopover, a visit to Grande Provence is filled with charm and style. Similar to a chic grandmother who travels internationally, but finds her true north at home, Grande Provence is an experience to savour. Here you can follow the story of a proud heritage, underpinned by uncompromising quality and grandeur, just like a Grande Dame who is always ready to welcome guests with a warm embrace.
If you are spending the night at The Owner's Cottage at Grande Province, your day will start with a delicious breakfast set up in the comfortable lounge area overlooking the swimming pool.
A stroll through the estate is the perfect after-breakfast activity, where you can meander through the vineyards and meet the resident ducks at the pond. En-route you are likely to spot art pieces scattered across the estate. Some majestic, others subtly placed to blend in with the greenery, the art at Grand Provence is by far one of the biggest attractions.
The Gallery at Grande Provence is frequented by international and local visitors and is a proud showcase of established and emerging artists. The layout is conveniently designed so you can browse through the spacious gallery at your own pace and end up at The Shop, where you can purchase accessible artworks and artifacts. 
Art is a sure way to work up an appetite and again, the Grande Dame does not disappoint. The Restaurant is a fine dining option for discerning travellers keen to try out the fresh Heritage Menu, which changes often and as inspiration hits the chef. The Bistro, the more informal eatery, is open daily and serves lighter fair for those passing by. Here you can enjoy wine tastings or one of the adventurous wine pairings, accompanied by a light meal. The burger served with chips and onion rings is a firm favourite.
After purchasing your new favourite wine - or perhaps a bottle of our Grande Provence Olive Oil - you can enjoy the gardens around the estate and take in the moment a little longer.
Days or months later, when you open your bottle of wine from Grande Provence, you will remember the impression the Grande Dame of Grande Provence made on you, and start dreaming about your return.