Past Exhibition - Angels Tears Exhibition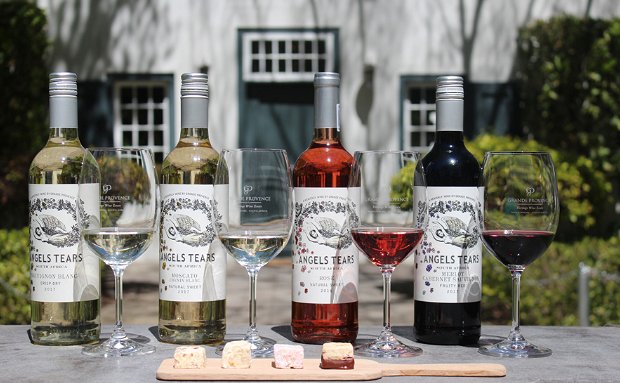 10 – 27 December 2017
A celebration of angels in the form of a group exhibition by contemporary artists and a heavenly wine and nougat tasting, takes centre stage at Grande Provence Heritage Wine Estate this December.
Hosted by The Gallery at Grande Provence, the Angels Tears Exhibition, will take you into the realm of angels in all their magnificence as portrayed by some of South Africa's most important artists in a variety of mediums and styles. To complete your cherubic encounter, The Tasting Room invites you to spread your wings and savour 'A Taste of Heaven' with a bouquet of enchanting pairings of Angels Tears wines and handmade nougat. As a gift from the angels at a 25% saving, visitors to Grande Provence will be able to purchase a twin pack of Angels Tears range for just R90 for the duration of the exhibition from 10 – 27 December. Legend has it that the angels wept for joy when they tasted these wines.
"The angel as messenger is a symbol of great significance, particularly over the festive season and with this contemporary exhibition, we would like to bring back this tradition in collaboration with Grande Provence and their delightful range of Angels Tears wines," says Myléne Ife, curator of The Gallery at Grande Provence.
 Derived from the Greek word, angelos, meaning 'messenger', the angel has a long tradition in the history of art since making its first appearance over 2000 years ago in early Christian works.  
 "The viewers' reactions to the many different art forms through which angels have been depicted over the centuries, are often very subjective and depend entirely on their personal backgrounds and experiences as it relates to the works on display," adds Ike.
 Some extraordinary pieces have been included in this exhibition. Grace da Costa'sbronze Chrysalis takes pride of place in the Grande Provence Sculpture Garden. Personifying the metamorphosis of the caterpillar emerging as a beautiful butterfly from the chrysalis, it symbolises significant change in the course of one's life, personality and way of thinking.
With her international reputation from solo exhibitions spanning over two decades, da Costa's work is part of President Thabo Mbeki's collection in the Presidential Office in Cape Town.
 One of South Africa's most important artists with experience in fine art painting and printmaking, Talitha Deetlefs, will be exhibiting a sculpture entitled Winged Muse from her Muse series. A Fine Arts graduate from Tshwane University of Technology in Pretoria, she relates her motivation for the inclusion of the piece: "Angels are said to be divine messengers, traversing the divide between the worlds of spirit and matter and bringing us messages of hope and joy when we need a guiding light. On a symbolic or archetypal level, an angel is synonymous with the muse, the bringer of divine inspiration."
 Other prominent artists whose works will be featured in the Angels Tears Exhibition include Vanessa Berlein, Alex Hamilton, Frans Mulder and Kali van der Merwe.
 A Fine Art diploma graduate from Kwazulu Natal, Vanessa Berlein recently qualified as one of the top 40 artists at the Sanlam Portrait awards. She has worked as an artist for 25 years, focusing mainly on painting, but also works with print, video, photography, music and sculptural mediums.
 Alex Hamilton whose works have been influenced by street art stencil graffiti and classic Warhol pop art, explores the collective memory of society by representing our aspirations, desires, styles, fears, nostalgia and joy through popular culture iconography.
 Frans Mulder, who graduated with a Diploma in Fine Arts from Port Elizabeth Technikon, has held solo and group exhibitions for almost four decades. His work was included in the recent David Shepherd Wildlife Foundation Artist of the Year catalogue.
 Kali van der Merwe, who had a phenomenal response to her work during her recent solo exhibition at Grande Provence, is a graduate of the University of Cape Town's Michaelis School of Fine Art with a primary focus on sculpture and ceramic sculpture in particular. She has also completed courses in Lithography and Serigraphy at Kunsthaus Bethanien in Berlin, Germany.
For more information on the Angels Tears Exhibition, contact the curator, Myléne Ife at Tel: 021-8768630 or email gallery@grandeprovence.co.za