Meet the Winemaker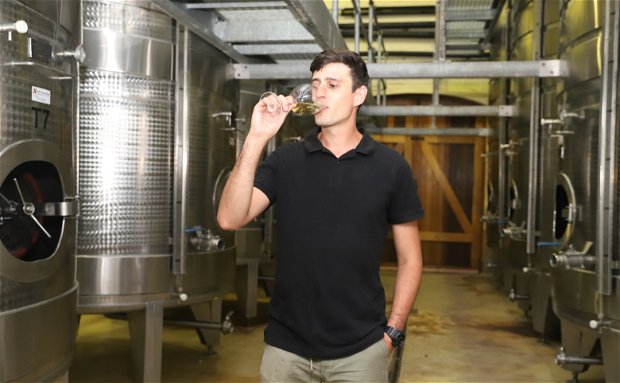 Our vision for Grande Provence Estate is to be recognised for fine, individual and unique wines, made by a passionate enthusiastic team.
Thys Smit
Thys Smit has been part of the Grande Provence winemaking team since 2015, the year in which this Heritage Wine Estate in Franschhoek became one of the first cellars to craft a wine using imported Tuscan clay amphorae.
Working with these egg-shaped, natural clay vessels from the onset has given Thys the edge when it comes to embracing this style of winemaking developed by the ancient Greeks and Romans thousands of years ago.
The aromatic and ultra-elegant Grande Provence Amphora Chenin Blanc speaks of his winemaking prowess.
Experience and hard work in the cellar and the vineyards paid off for Thys in July 2018, when he was promoted to Grande Provence Winemaker and Farm Manager.
His entry into winemaking as a career was equally fortuitous. As a BSc graduate in molecular biology and biotechnology at the University of Stellenbosch Thys began his winemaking career completely by accident.
"I have been very fortunate to work with some outstanding parcels of fruit sourced across the Cape Winelands and welcome the new challenges at Grande Provence"
In 2014, after working three vintages at Lourensford Estate, Thys enrolled in a training program in the USA where he worked at Roth Estate focusing on Chardonnay and Bordeaux-style blends.
He loves making and drinking unique and interesting wines, especially with great food  and has a particular preference for white wines, above all Chenin blanc.
His favourite wine is a well-aged Bordeaux-style blend but a well-crafted, hoppy Indian Pale Ale will also hit the spot. Thys' favourite leisure activities are reading, spending time with friends and, as a true red blooded South African, having a braai.
For wine tasting & cellar tour bookings please contact reservations@grandeprovence.co.za.
For wine purchases, delivery & other wine enquiries please contact marketing@grandeprovence.co.za / logistics@grandeprovence.co.za
Speak to the winemaker contact cellar@grandeprovence.co.za