Owners Cottage @ Grande Provence
Honeymoon Suite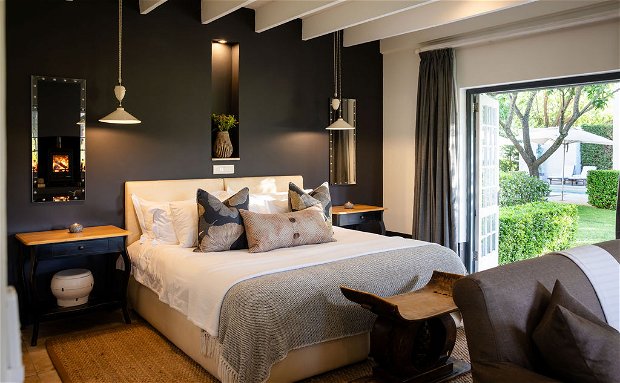 Experience romance in one of our exclusive private cottages at Grande Provence – whether it's the intimate Owner's Cottage or the charming La Provençale Villa nestled in the Vineyards.
Alternatively, venture to our sister property, Dolphin Island, Fiji, for an enchanting getaway.
Grande Provence Wine Estate boasts 325 years of rich heritage and an exquisite setting where you can celebrate your love in absolute privacy and style.
The deluxe suite in The Owner's Cottage is meticulously designed, offering opulence and comfort within a spacious en suite bedroom accompanied by a separate sitting room featuring a cozy fireplace.
Similarly available for exclusive use, La Provençale offers a more laid-back hospitality style. Its spacious lounge opens onto an outdoor loggia and a petite swimming pool. The en suite bedroom includes a convenient kitchenette for your comfort.
With an array of attractions on Grande Provence Estate, there's plenty to explore without needing to leave. However, if you decide to venture further, the Franschhoek Valley and Western Cape offer numerous sights and activities. Plus, being less than an hour's drive from Cape Town, Grande Provence boasts an ideal location.
For more details, please contact Reservations . ownerscottage@grandeprovence.co.za 
Dolphin Island, Fiji
Dolphin Island, just a 30-minute boat ride from the shore at the tip of Viti Levu, Fiji, is a gem surrounded by pristine waters. Upon arrival at Nadi International Airport, a private car (included in the tariff) can transport you for 2.5 hours, or opt for a floatplane or helicopter transfer to Dolphin Island. From there, the island's private boat will take you to your secluded island haven, welcoming you with luxurious accommodations and breathtaking beauty.
The main bure, with its stunning traditional palm-thatched roof and architecturally detailed design, takes center stage, flanked by two picturesque guest bure suites. Designed to blend seamlessly with the landscape, these structures ensure an immersive experience in the island's lush natural surroundings.
Renowned interior designer Virginia Fisher has curated an exceptional guest experience at Dolphin Island. Her keen sense of place shines through as she incorporates vibrant colors, textures, and patterns from the Pacific with innate style. Every detail, from plush beach towels to fragrant candles, contributes to an enchanting atmosphere.
For further information or reservations, please contact